Hi there, I've created 3 Pokémon that I want to share, all are final evolutions. (stage 3, or 2 using TCG stages).
First is Resonoir:

Type: Steel/Ghost
Stereo Pkmn.
Is the result of a spirit possesing a Stereo. It is pretty powerful, but it is surprisingly difficult to find one.
It is based on a Stereo.
Stats:
Atk: -
Def: º
Sp.Atk: *
Sp.Def: º
Speed: +
Symbols:* = Great stat.
+ = Good stat.
º = Mediocre stat.
- = Bad stat.
Signature attack: Resonance.
Abilities: Soundproof/Incorporeal (Isn´t affected by physical attacks, but special attacks do 1.5 damage)
Next is Krolectron: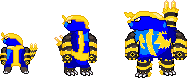 Type: Elecric/Ground
Voltage Pkmn.
They live in mountains. People said that Krolectorn eats storms. They won't fight with a weaker opponent.
It is some kind of oversized ferret.
Stats:
Atk: *
Def: +
Sp.Atk: +
Sp.Def: +
Spd: -
Signature attack: Exo Spark.
Abilities: Conductivity/Landscape (C:Makes that Electric attacks hit Ground and Grounding Pkmn. L: When enters battle, disables all traps ((Stealth Rock, etc)))
Finally is Motstream:
Type: Water/Steel
Jet Ski Pkmn.
They cross the sea at mach 2 speed. Ocassionaly aids castaways. It is pround, so don't offend it, or it can be dangerous.
It is based on a Jet Ski.
Stats:
Atk: -
Def: *
Sp.Atk: º
Sp.Def: -
Spd: *
Signature attack: Didn't decided yet.
Abilities: Drizzle/Acceleration (Each time its stats are lowered, its Speed raises by 2 levels.)
I was going to put images, but it doesn't allowed me.
Those were my Pokémon. I have to write in other post the attacks.
See ya!
Edit: Fixed Incorporeal's effect.
Edit 2: Added Pokédex text, and fixed some stats.
Last edited by DiZ on Sun Sep 04, 2011 4:34 pm; edited 3 times in total